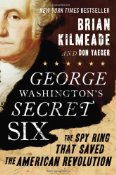 George Washington's Secret Six is extremely well-written and concise. Frankly, it was a surprise to this reviewer. Any time a celebrity (in this case Brian Kilmeade of Fox and Friends) attaches his name to a book, one has to be skeptical. In this case, the skepticism was not well-founded.
Authors Brian Kilmeade and Don Yaeger did a tremendous job recounting the story of some very brave souls who made an enormous difference in the outcome of the American Revolution. One of these patriots, a woman, was captured by the British, and to this day, no one knows either her identity or what became of her. Another member of the ring was not identified until the 20th century, so much did he shun attention or credit for his actions.
Robert Townsend's grave, located on the edge of the Townsend family burial site, up against a fence, is startlingly nondescript. Townsend wouldn't have wanted it any other way: an unassuming man, he lived and died without revealing his key role as one of George Washington's most successful and essential spies.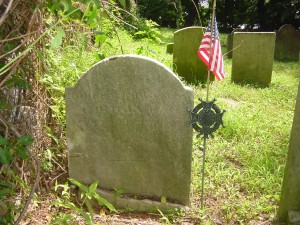 In spite of Washington's desire to meet and thank the man who did so much at such great risk, Townsend remained anonymous, even when Washington made a stop in Townsend's home town after the war.
Kilmeade and Yaeger did yeoman's work uncovering the characters and personalities of the six1, through both their deeds as well as through words and the correspondence of Benjamin Tallmadge (their controller), George Washington, and their own writings. This uncovering of the characters of these people is what struck this reviewer most.
The best way to describe this book is moving – in very surprising ways. Washington is shown as a brilliant tactician bent on winning the war at almost any cost. But, at the same time he was very solicitous for the safety of his spies. At times he became frustrated with the necessary delays incurred in passing information out of enemy territory. At one point he may have undervalued the intelligence they were providing, but quickly realized his mistake, and repented, subsequently reaping enormous benefit for having done so. Thanks to the efforts of his spy ring, Washington had the information he needed to mislead the British by planting misinformation, causing the enemy to withhold crucial support from New York needed by Cornwallis at Yorktown.
But it is not only the characters of Washington and Townsend which are illuminated in new and interesting ways. The story of Nathan Hales' capture and execution is explained in a clear and very sympathetic manner – as was the capture of Major Andre – the British spymaster. Many books, like Ron Chernow's on Washington (reviewed here) and Hamilton (reviewed here), relate how Andre was a sympathetic, if somewhat tragic figure, liked by Hamilton (who argued, if not for his release, for his being spared from the hangman's noose.) In these and other books this reviewer didn't fully understand why this was so. However, in this book, the reader gets a real sense of why Andre was so well thought of, and in spite of this, why Washington insisted on Andre's execution by hanging. Andre was Benjamin Tallmadge's counterpart on the British side. It was he who took advantage of Benedict Arnold's lack of character. Captured somewhat by a fluke after a clandestine meeting with Arnold, Andre was caught masquerading as a civilian, hiding his military rank, and thus acting in the character of a spy. Spies were to be hanged – as was Nathan Hale by the British. Like Hale, Andre comported himself with such class and honor. The way in which this is recounted, made this reader feel what Hamilton and Washington must have felt for this brave man. Andre's character is best exemplified by the letter he wrote to General Clinton, "absolving his commander of any guilt he might feel for the mission on which he had sent Andre. The circumstances had simply been unfortunate and had not gone according to their carefully laid-out plan:"
Under these circumstances I have obtained General Washington's permission to send you this Letter, the object of which is to remove from your Breast any Suspicion that I could imagine that I was bound by your Excellencys Orders to expose myself to what has happened. The Events of coming within an Enemys posts and of Changing my dress which led me to my present Situation were contrary to my own Intentions as they were to your Orders; and the circuitous route which I took to return was imposed (perhaps unavoidably) without alternative upon me.
I am perfectly and tranquil in mind and prepared for any Fate to which an honest Zeal for my Kings Service may have devoted me.
In addressing myself to your Excellency on this Occasion the force of all my Obligations to you and of the Attachment and Gratitude I bear you, recurrs to me. With all the Warmth of my heart I give you thanks for your Excellencys profuse kindness to me, and I send you the most earnest Wishes for your Wellfare which a faitfull affectionate and respectfull Attendant can frame.

I have a Mother and Three Sisters …. It is needless to be more explicit on this Subject; I am persuaded of your Excellencys Goodness. I receive the greatest Attention from his Excellency General Washington and from every person under whose charge I happened to be placed. I have the honor to be with the most respectful Attachment.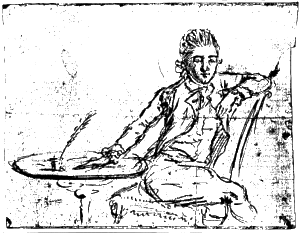 If Andre is portrayed as a sympathetic figure, the opposite is true for Benedict Arnold. In other books, like Willard Stearne Randall's Ethan Allen biography (reviewed here), Arnold is shown to have been a brilliant military man, largely responsible for the victory at Saratoga for which Gates took the credit. Adding injury to insult, Arnold was severely wounded. While all of that may be true, George Washington's Secret Six removed any vestige of sympathy this reader may have had for Arnold. Not only was Arnold actively trying to turn over West Point to the British for his 30 pieces of silver (first he asked for £10,000 and then upped his demand to £20,000), but he sought to sweeten the deal by getting as much materiel into the fort as he could, in advance of the British taking it. All this might be put down to his rapacity and a misguided desire for retribution for being so unappreciated by the Continental government. However, Arnold's desire to ingratiate himself with his new benefactors knew no bounds. Arnold actively tried to get the names and identifies of George Washington's Secret Six so he could turn them over to the British. Arnold approached both Washington and Lafayette for this information.
… Arnold began to inquire about the names and addresses of Patriot spies he claimed might be of importance to him in defending the fort against any planned attacks by the British. Of particular interest to Arnold was the ring operating in New York, upon whom Washington had relied so heavily … The commander in chief declined the request out of both honor and necessity; he did not know the identity of most of his spies by design and he had sworn to uphold the secrecy of those he did know. Lafayette responded to Arnold's request in a similar manner.
Arnold wasn't satisfied with this rebuff and went on to try for the identities of other spies in Patriot employ.
… Arnold wrote a letter to Major General Robert Howe of the Continental Army, begging for this same information about a few operatives in Howe's employ in such an eloquent and reasonable manner that his motives seemed to be quite aboveboard. "As the safety of this Post and garrison in a great measure depends on having good intelligence of the movements and designs of the enemy," he penned, "and as you have been fortunate in the agents you have employed for that purpose, I must request, with their permission, to be informed who they are, as I wish to employ them for the same purpose. I will engage upon them no discovery of them to any person breathing."
Howe took the matter up with his spies who wisely declined to deal with Arnold. Below is an excerpt from Howe's response to Arnold's inquiry:
The two most intelligent and confidential I got to undertake with difficulty, and they did it with the greatest reluctance and not without my pledging in the most solemn manner my honor not to inform any person upon earth of their names, or of their acting in the capacity of emissarys, they are persons of character and property, who cannot without utter ruin get out of the enemys power, and yet devoted to America, have agreed to serve in a way they do not like, but which is the only way they can at present serve her in. I have written to them and urged them to let me give their address to you, but … they in the most positive terms refused; and it is not without great persuasion and difficulty that they are prevailed upon to continue their acting even for me; this makes me fear that they will not consent to it tho I sincerely wish they may. I cannot indeed blame this caution, as their life and the ruin of their families must be the certain consequence should any accident happen to them.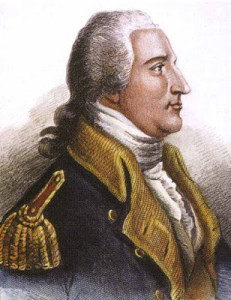 It is no wonder that Washington continued to do everything in his power to capture the traitor after Arnold made his escape. Washington even concocted a plan to infiltrate the British army and place a loyal patriot in close proximity to Arnold. Working with Major Henry Lee (Robert E. Lee's father), Washington arranged to have a man pose as a deserter so as to be placed under Arnold's new command after winning his confidence. The plan worked exactly as devised. But what is most incredible is that the purpose for doing this was to capture Arnold rather than assassinate him as many wished. Washington refused to yield to any such pleas, and explicitly ordered this not to be countenanced.
No circumstance whatever shall obtain my consent to his being put to death. The idea which would accompany such an event would be that Ruffians had been hired to assassinate him. My aim is to make a public example of him, and this should be strongly impressed upon those who are employed to bring him off.
This was yet another example of Washington's ability to take the big picture view, in spite of whatever inclinations he may have had personally. The young man employed for this dangerous role, John Champe, succeeded in convincing the British that his defection was genuine – he was almost killed by patriot troops as he crossed the line as they were necessarily ignorant of his true mission – and was also successful in getting assigned to serve Arnold. (Exactly as Washington had foreseen.) It seems likely Champe could have assassinated Arnold had he not been explicitly forbidden to do so. He was certainly physically capable of dispatching Arnold, as later describe by Lee in his Memoire: "rather above the common size, full of bone and muscle, with saturnine countenance, grave thoughtful and taciturn, of tried courage and inflexible perseverance." Or as the authors summarized: "In short, he was large, strong, serious, and stubborn – the perfect man for such a difficult job."
Unfortunately Arnold and Champe were unexpectedly assigned to Virginia on the day prior to the planned extraction, and the plan never came to fruition. Arnold never fully paid for his perfidy in this life, although he never got his £20,000.
And so, George Washington's Secret Six is a tale of deceit and honor, but mostly the latter. Unlike Arnold, the six weren't traitors and neither did they seek financial rewards for the pains they took. Washington took a personal interest in these brave me and women. Some, like bookseller James Rivington, fulfilled their roles so well, that their neighbors even suspected them of being Tories. Rivington and his shop received special protection in the days and weeks following the British evacuation of New York, lest there be burning and looting of his shop as unknowing "Sons of Liberty" were likely to do in seeking vengeance. There was a price to be paid, nonetheless. Rivington's newspaper business suffered because of his (false) reputation as a staunch enemy of the republic. He was eventually forced to close his shop and even spent some time in debtor's prison.
The book concludes with snippets of biographical information like this on all the characters in the story of America's first spy ring and makes for a nice tidy close to a fascinating tale.