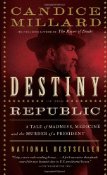 Destiny of the Republic
A Tale of Madness, Medicine, and the Murder of a President
By Candace Millard
Candace Millard artfully weaves President James A. Garfield's story with the lives of the people he intersected.  The result is a tale of nobility, ego, villainy, loyalty, weakness and redemption.  Joseph Lister, Alexander Graham Bell, Ulysses S. Grant, Senator James G. Blaine and the explorer John Wesley Powell can all be found within these pages.  Among those little known or remembered are the rapacious and powerful New York Senator Roscoe Conkling, Garfield's loyal and indefatigable private secretary Joseph Stanley Brown, and delusional job applicant and would-be assassin Charles Guiteau whose life (and death) are chronicled.
The author begins by exploring Garfield's family and early life of poverty.  His mother's dream was that James, only 2 when his father died, would have a good education.  It was not a goal James shared.  At 16 he left to work on the Ohio and Erie Canal, the closest the land-locked Ohioan could get to the ocean he longed to see.  It was rough work with rough men but he liked the life until his near drowning persuaded him that he had been spared for a larger purpose.  He returned home and set about getting the education he had previously rejected.
Garfield's gritty determination, insatiable thirst for knowledge, and keen intelligence were matched by an awakened ambition to "make his mark in the world." After graduating with honors from college, the 26 year-old Garfield became president of Western Reserve Eclectic Institute, the preparatory school where he had paid his tuition by working as a janitor.
Politics and war ended Garfield's academic career.  He was recruited to run for state senator after the occupant of that office died unexpectedly.  He was easily elected despite doing nothing to further his cause.  Not quite a year later, the nation was plunged into Civil War.  Garfield joined the Union Army where his rare combination of tactical brilliance, courage and audacity earned him fame and promotion to brigadier general.
He was elected to the U.S. Congress in 1862 despite refusing to promote his candidacy.  Although he requested another field assignment in the still raging war, Lincoln prevailed upon him to take the congressional seat.  "I did this with regret," Garfield wrote home, "But the President told me that he dared not risk a single vote in the House, and he needed men in Congress who were practically acquainted with the wants of the army."
Garfield was elected to the U.S. Senate in1879 under the same self-imposed rules that had marked his earlier political victories.  He told his backers that he despised a man "who blows his own horn."   His conditions were: "First I shall make no pledge to any man or any measures; second, I shall not work for my own nomination."
As for the presidency, his 17 years in Congress had convinced him of the character-destroying effects of "presidential fever" and he was determined "it shall not seize me."
When he arrived in Chicago for the 1880 Republican Convention, the Party was divided between two factions – the Stalwarts, led by Roscoe Conkling, were committed to defending the politically lucrative spoils system and to opposing reconciliation with the South.  Garfield shared the values of the reformers, known as the Half-Breeds, who wanted to replace the spoils system with a merit system.
The Stalwarts backed Ulysses S. Grant whose prior two terms (1868 and 1872) had been marked by scandals and corruption.  The Half -Breeds were divided, supporting Senator James G. Blaine and John Sherman (brother of William Tecumseh Sherman and then Secretary of State under President Rutherford B. Hayes).  Hayes' efforts to end the spoils system had been so bitterly opposed by the Stalwarts that he'd refused to run for a second term.
Garfield was drafted to make the nominating speech for fellow Ohioan Sherman. Conkling, known for his oratorical skills, nominated Grant.  Conkling whipped the crowd into frenzy, sparing no invective attacking the other candidates.  Garfield, also known as an orator, followed Conkling's performance and made the case for reflection rather than frenzy, calming the crowd: "…when your enthusiasm has passed, when the emotions of this hour have subsided, we shall find below the storm and passion the calm level of public opinion from which the thoughts of a mighty people are to be measured, and by which final action will be determined."
Completing these thoughts he asked: "And now, gentleman of the Convention, what do we want?" To his surprise and dismay some within the crowd replied, "We want Garfield!."  When he regained control of the audience he sent a message to the South, asking: "that you join us in lifting into the serene firmament of the Constitution… the immortal principles of truth and justice: that all men, white or black, shall be free, and shall stand equal before the law."  When he concluded, the ovation from the crowd surpassed Conkling's.
The Convention adjourned because the next day was Sunday, but the politicians did not rest. Conkling spent the day negotiating backroom deals to buy votes.  Garfield was busy discouraging a growing movement to make him the nominee.  He told would-be supporters: "I am going to vote for [Sherman] and I will be loyal to him.  My name must not be used."
Upon reconvening, the convention was hopelessly deadlocked.  Ballot after ballot cast with no candidate garnering sufficient votes.  Garfield's name was again put forth despite his shouted objections that he had not given permission.  On the thirty-sixth ballot, as Garfield votes mounted, he was nominated by acclimation.
Garfield's Ohio delegation chose Chester A. Arthur, a Stalwart, as vice president. (At the time, presidents did not select their running mate.) The Garfield-Arthur Republican ticket narrowly defeated Democrats Winfield Scott Hancock and William Hayden English in the general election.
This account gives the reader some measure of the man and his career.  Each chapter begins with a quote taken from Garfield's diary or correspondence providing further insight into his thinking and character.  Like any man he was not without blemish, but Millard makes a persuasive case that the nation was poorer when his presidency was cut short.
The most disturbing thing about the tragedy is that it didn't have to happen.  The autopsy indicated that Garfield would have survived the bullet (it missed his spine and did not penetrate any vital organs).
It was his doctors who killed him, in particular, Willard Bliss who, in his egotism and pride, took charge, refusing to allow other doctors to examine the patient.  His "treatment" amounted to subjecting Garfield to nearly three months of torture.  The president suffered it all with patience, fortitude, and courtesy toward his caregivers.
Although Joseph Lister's discovery of the prevention of infection through antiseptic measures had gained credence in Europe, it was slow to be accepted in America.  Bliss dismissed Lister's findings and neglected even the most rudimentary sanitary precautions.
Two famous men rushed to Washington to try to save the dying Garfield.  Alexander Graham Bell worked to exhaustion on a rudimentary metal detector to locate the bullet.  The explorer Wesley Powell helped design the first air conditioning system to reduce the suffocating summer heat in the sickroom.  Dr. Bliss insisted that the bullet was lodged on Garfield's right side and would not permit Bell to pass his invention over the left.
The autopsy proved that Bliss was wrong about that, too.  His relentless poking & prodding were needless and caused the infection that ravaged Garfield's body and caused his death.
From today's vantage, it seems incredible that someone did not throw Bliss out of the White House and find other medical help.  That they did not is both testimony to his overbearing personality and to the rudimentary level of medical knowledge.
Millard provides a glimpse into the life of presidents in post-civil war America. The White House was a ramshackle affair, poorly maintained, infested by rats and beset by decaying plumbing. Presidents had no security. They walked the streets of Washington without guards.  If they traveled they took a public train like anyone else.  In fact, Garfield was shot at the Baltimore and Potomac Station at sixth and B Streets on his way to join his wife for a trip to his twenty-fifth college reunion.
Garfield's death panicked Vice President Chester Arthur.
"Politically, Arthur was wholly Conkling's creation.  The only public position Arthur had before becoming president of the United States was as collector of the New York Customs House, a job Conkling had secured for him and which paid more than $50,000 a year – as much as the president's salary and five times more than the vice president's.  Even then, he had been forced out of office amid widespread allegations of corruption. 'The nomination of Arthur is a ridiculous burlesque,' John Sherman had spat after the convention. 'He never held an office except the one he was removed from.'"
However, even before Garfield's death, Arthur had begun pulling way from Conkling. He was supported by letters of encouragement and advice from Julia Sand, a woman he'd never met, but who nonetheless believed he was capable of redemption –– another story woven into this multifaceted book.
When Garfield's condition deteriorated Sand wrote:
"'Your kindest opponents say: 'Arthur will try to do right' – adding gloomily ––'He won't succeed, though –– making a man President cannot change him  … 'But making a man President can change him! Great emergencies awaken generous traits, which have lain dormant half a life. If there is a spark of nobility in you, now is the occasion to let it shine.  Faith in your better nature forces me to write to you –– but not to beg you to resign.  Do what is more difficult & more brave. Reform!'"
In his first presidential address Arthur called for civil service reform.  A year later, he signed the Pendleton Civil Service Act. "'No man ever entered the presidency so profoundly and widely mistrusted,' the well known journalist Alexander McClure wrote,' and no one ever retired … more generally respected.'"
Garfield, admired by many, was widely mourned.  However, the author's assertion that his death united the country seems overblown.  Only 16 years had passed since the end of the Civil War, still the bloodiest conflict in the nation's history.  However, Millard can be forgiven for being beguiled by her subject, an undeniably exceptional man.
The author packs everything promised in the subtitle and more into this absorbing and extensively researched book.  At its most compelling, it is not about Garfield's too brief presidency, but about a little remembered, extraordinary man, robbed of both life and celebrity by a larcenous lunatic who never understood what he had done.  It is almost impossible to put down.