Fans of the Patrick O'Brian Aubrey/Maturin books, C.S. Forrester's Hornblower books, and of Bernard Cornwell's Sharpe's series, pretty much have to go seek out a biography of Thomas Cochrane at some point. Fortunately this book exists.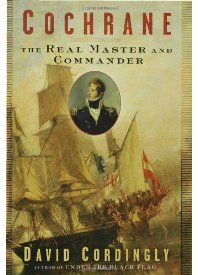 Both Forrester and O'Brian were inspired by the life of Cochrane.  After reading Cordingly's book it becomes evident just how much.   O'Brian in particular, based numerous exploits on Cochrane's real life endeavors.  His Captain Aubrey shared many of the same character flaws and strengths of the real life Cochrane.  Many of the events in Jack Aubrey's life were almost completely derived from this amazing guy.
Like the fictional Aubrey, Cochrane was a troublemaker as an MP.  Also, like Aubrey (Reverse of The Medal), he was in the wrong place at the wrong time and falsely accused of manipulating the stock market in the midst of the Napoleonic war, by supposedly conspiring to spread a rumor that the war was over. The support shown for Cochrane by his brother officers is mirrored in O'Brian's account of Aubrey's travails.  As men of action there are also similarities between the fictional Aubrey and the historical Cochrane.  Cochrane's exploits in the Speedy were certainly grist for O'Brian's Aubrey's "cutting out" expeditions.
One trait not shared by the fictional Aubrey was the paranoia that Cochrane felt at times against his superiors.  While Aubrey frequently chafed at incompetent admirals (he made some of his own difficulties by cuckolding his superior's wife), he was never a paranoid political animal.  Cochrane, on the other hand, at times created self-fulfilling prophecies with wild accusations and complaints.  This biography was definitely not an exercise in hagiography! Nevertheless, the reader quickly realizes, that for all his faults, Cochrane was a man's man.  There is much to admire in Cochrane's character and in the breadth of his achievements.
Aside from the heroic image that this life of Cochrane details – even with his faults – reading this book brings to mind just how much it is possible to pack into a single life and what kind of mark a determined individual can make.  Cochrane's perseverance and tenacity made him a key factor in the independence of Chile, Brazil, and Greece.  All of these countries recognize his contribution.  He served as the head of each of their navies.
Cochrane also was an avid inventor, and championed the development of poison gas, a new kind of ship's light, and helped to invent a rotary steam engine.
He lived a full and varied life and died at 85 years of age.
The book was well-written and very interesting.