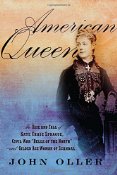 American Queen
The Rise and fall of Kate Chase Sprague, Civil War "Belle of the North" and Gilded Age Woman of Scandal
By John Oller
Although billed as the rise and fall of Kate Sprague Chase, her story is inseparable from that of her father, the brilliant, ambitious and ethically challenged Salmon Chase. That explains why more than half the book follows his career. Chase was U.S. Senator from Ohio, Governor of that state, secretary of the treasury in the first Lincoln administration, and chief justice of the Supreme Court in the second. 
No other politician of his era switched parties so frequently or ran for president as often as Chase did –four times actively from 1856 to 1868, and at least tacitly in 1872. No other chief justice of the Supreme Court sought the presidency, as Chase did twice, while sitting on the bench. 
Only as Chase withdraws from public life does Kate's story become dominant. 
Many well known historical figures make, what in the movies are called, cameo appearances, Charles Sumner, James Garfield, Horace Greely, William Seward and, of course, Abraham and Mary Lincoln. This reviewer was delighted to find among this number the inestimable Quintus Cincinnatus Lamar. The occasion was when an over wrought Republican Senator Roscoe Conkling (more about him later) accused Senate Democrats of bad faith in their efforts to over turn federal election law guarding against voter fraud.
Mississippi Senator Lucius Q. C. Lamar, an ex-Confederate general, took offense and, trembling with anger, pronounced Conkling's statement "a falsehood, which I repel with all the unmitigated contempt that I feel for the author of it." Conkling slowly rose from his seat and, glaring at Lamar, said that if he heard him right, then but for the fact that they were standing in Senate, with all its rules and proprieties, "I would denounce him as a blackguard, as a coward, and a liar." …Lamar stood again and said he had been understood correctly and meant to say "just precisely the words, and all that they imported." He apologized–not to Conkling but to the Senate–for his harsh language, which was "such as no good man would deserve and no brave man would wear."  In southern code Conkling had just been challenged to a duel.
There was no duel. Conkling, the insulted party, did not pursue the matter. "Lamar's backers claimed a moral victory over someone afraid to fight."
But I digress. As for Salmon Chase, the "moderately prosperous" Ohio banking lawyer, his interests ranged far beyond his legal practice. Chase did all he could to advance the antislavery cause, although he denied being an abolitionist. Cincinnati was a border town, dependent on the slave trade with the South, and  abolitionists were unpopular. But it was also an important station on the Underground Railroad. To his credit, Chase opposed the fugitive slave law and regularly defended runaways in court and just as regularly lost. Chase became nationally known for his efforts. It was part of his plan to "make his mark in the world."  But his personal life was haunted by tragedy. 
During a span of 14 years Chase was widowed three times, losing as many infant daughters to death. Kate, a daughter by his second wife, and Janet, stepsister to Kate by his third wife, were the only surviving issue. He never married again.
In 1849 Chase, having made was a deal with the Democrats, was elected to the U.S. Senate, (At this time state legislatures elected U.S. senators.) According to Oller, he served an undistinguished single term, being widely viewed as an opportunist.
Kate was away at boarding school. Her letters home were received with caustic comments about errors in spelling, grammar and style deficiencies and sent back with instructions to correct and return them to her father. He constantly harangued the lonely and homesick girl to strive for excellence. Â 
She returned to Ohio when Chase, back from Washington, was running for governor as a Republican. Kate became her father's "official hostess, interior decorator, and confidential secretary," and was increasingly relied upon as a sounding board for his political thinking.   
Lovely, well educated and charming Kate became a popular hostess much admired by the many notable men who frequented the Chase home. Kate developed an early preference for the company of men over that of women. The feeling was mutual on both counts. 
Undaunted by an unsuccessful effort in 1856 to be the first-ever presidential candidate for the Republican Party, Chase set course for the 1860 presidential election. Kate used all the means at her disposal to garner political support for her father. But he lost the nomination to a backwoodsman from Illinois named Abraham Lincoln. 
Despite his disappointment Chase campaigned vigorously for Lincoln. He expected to be rewarded with the top position of secretary of state. When Lincoln chose William Seward instead, Chase lobbied for treasury secretary, having determined his interests would be better served inside the cabinet than out. Lincoln, presumably out of gratitude, and believing Chase to be the best man for job, appointed him.
Kate used her popularity and her father's cabinet position to entertain lavishly and, not incidentally, advance his undiminished presidential ambitions.   
When hostilities broke out between the states, the southern ladies who had led Washington society, departed. 
As First Lady, Kentucky native Mary Lincoln was now 'the titular head of official society' but it was Kate Chase, the young westerner from Ohio, who was sovereign in fact. 
The rivalry between the two is described in an anecdote. Â 
At the end of the first White House state dinner on March 28, 1861, Mrs. Lincoln reportedly told Kate, "I shall be glad to see you any time, Miss Chase."  

The twenty-year-old Kate drew herself up to her full height, towering above the First Lady, and answered, "Mrs. Lincoln, I shall be glad to have you call on me any time."
As Washington prepared for war, Kate fell in love with the dashing war hero and boy-Governor of Rhode Island, the troubled William Sprague. Sprague's penchant for hard drinking was already well known as were rumors that he had gotten a young woman pregnant and that the liaison was not ended. But Kate was not deterred from marrying the handsome Sprague. Perhaps she thought she could change him, or maybe being one of the richest men in America added to his charms. Kate spent lavishly on furnishings for their home and on herself. Her father, with some misgivings, agreed to the union.   
Chase worked hard as treasurer to raise money for the conduct of the war. But he never got over the idea that he, not Lincoln, should have won the nomination and been president. Chase was openly critical of Lincoln's conduct of the war and was complicit in the Cabinet Crisis of December 1862 when, along with radicals in Congress, he attempted to remove Seward. The coup failed and it marked the end of any real influence Chase had within the administration. 
Chase was again gearing up to run for president, intending to challenge Lincoln for the 1864 Republican nomination, but this time with financial help from his son-in-law. 
According to a diary kept by Lincoln's secretary John Hay, the president was well aware of Chase's disloyalty. He told Hay that he supposed Chase would  "like the bluebottle fly, lay his eggs on every rotten spot he can find." And indeed, Chase backers were an unsavory lot. But the tide of war turned in favor of the Union, virtually assuring Lincoln's re-election and dashing Chase's hopes for the presidency again. 
As Kate's marriage deteriorated under the stresses of Sprague's alcoholism and philandering, the couple was often apart. Her spending was unabated, culminating in a four-story Victorian Gothic mansion in Narragansett. In the author's words, "fit to serve as a future summer White House." 
Throughout the tribulations of Kate's marriage, Salmon Chase encouraged her to overlook Sprague's failings and be a submissive wife. No advice could have been further afield from Kate's independent nature. However, Chief Justice of the Supreme Court Salmon Chase was concentrating on another presidential run. 
In January of 1868, Kate was working hard to advance her father's presidential ambitions. But after the Republicans nominated General Ulysses Grant, Kate determined that Chase's only chance was to run as a Democrat. Advised by Kate, Chase turned his back on the causes of a lifetime and endorsed the Democrat Platform. The delegates rejected the man remembered for his radical Republicanism and abolitionism as their candidate. 
Kate's marriage continued to fall apart as Sprague's behavior became so bizarre that even Salmon Chase could not longer abide it. He stopped urging Kate to reconcile.  
Kate urged Chase to run again in 1872, despite his having suffered a stroke from which he was still recovering. She hosted an elaborate reception to persuade potential supporters. The idea aroused no interest. Chase's two decades long quest for the presidency was over. 
A contemporary asserted that it was "her, not so much his, wild ambition" to make Chase president. 
But to ask whether Kate lit her father's burning fires of ambition or whether it was the other way around posits a false choice. The reality is that both Kate and her father craved a Chase presidency, not only for themselves, but also for each other.
Salmon Chase died in May of 1873 at the age of sixty-five. He did not witness the September financial crash that deprived his wealthy, erratic son-in-law of business and fortune. Nor did Chase know about the sordid scandal caused by Kate's affair with New York Senator and Republican Party political boss Roscoe Conkling, a married man.  
The two had been romantically linked in the gossip columns long before a confrontation at Narragansett between Sprague and Conkling made national news. Public squabbling between Kate and Sprague kept them in the public eye to the credit of neither party. 
Kate's affair with Conkling continued. He, like Kate, was intensely political. And she soon swung into action lobbying then President Chester Arthur to obtain a high office for Conkling. ideology and party loyalties mattered little to Kate. 
…(As always, her politics were more personal than policy or party driven. She paid lip service to the interests of the Republican Party and no doubt sincerely believed Conkling was the best man for the job, just as she had been convinced that that her father was the best man for presidency. But at bottom she equated what was best for the party with what was best for Roscoe Conkling.
But Kate's flaunting of convention had a cost. At the time, infidelity on the part of a man could be ignored but was unacceptable for a woman. The rest of Kate's story is a sad one. Her only son, subject to the same demons that beset Sprague, died by his own hand. The marriage also had produced three girls. Her grown daughters led separate lives but Kitty, the daughter who most resembled Kate, had the mental capacity of a child. Kate devoted the rest of her life to caring for her.  
Chase's modest bequest was gone, what property remained was in foreclosure. Kate lived a hand-to-mouth existence "raising hens and selling milk, eggs and home grown fruit and vegetables in suburban Washington" to support herself and Kitty. It was a display of indomitable courage and nobility. 
John Oller has written an absorbing book. For the most part the author is objective, leaving it to readers to draw their own conclusions. His assessment of President James Garfield, however, is at odds with Candace Millard's biography, reviewed here. But that is an issue for historians to debate.  
Oller drew upon family papers provided by Kate Chase's descendants and other previously untapped resources to write this dramatic and meticulously researched story. It encompasses far more than this review reflects.
The author brings into focus a master of political intrigue and a beautiful, ambitious and resourceful woman who was determined to live life on her own terms. Oller's book evokes an era and the American Queen who, for a time, ruled it.