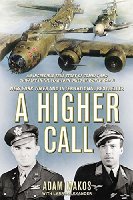 A Higher Call
By Adam Makos with Larry Alexander
This book is probably unlike any you have read about the Second World War. It combines the stories of two men–– a young American B-17 pilot and a seasoned German fighter pilot –– with some big slices of World War II history. But it is the two pilots, united by a common humanity, who capture and keep readers' interest.
Author Adam Makos and his brother Bryan grew up listening to their grandfathers talk about the war. One had been a crewman on B-17s and the other a Marine. They took the Makos brothers to air shows, built them model airplanes and instilled admiration for the "Greatest Generation" along with a burning desire to know more.
What began as a teens' neighborhood newsletter about WWII aviation, morphed into a college magazine derived from attending air shows and veteran reunions and conducting interviews. After college, the magazine became an occupation. Its purpose was to "get the facts straight and publish stories that put the military in a good light." The German pilots they occasionally met were ignored as unworthy of attention. The author writes:
"I read about German's like them in my books, saw them in movies, and that was enough. …To me, the Germans were all Nazis."

But something was puzzling. Makos noticed that the interviewed American WWII pilots "spoke of the German pilots' bravery, decency, and a code of honor that they supposedly shared." That struck the author as more than a little odd.
Then he called on an American bomber pilot named Charlie Brown who further challenged the author's assumptions. Charlie's bomber had been shot to pieces, and Makos asked for the story. Brown said if he really wanted to know what happened, he would have to interview former German fighter pilot Franz Stigler. Reluctantly, Makos agreed, but Brown had to promise he would share his side of the story, too.
The author went to Canada where Stigler and his wife were living and learned who was and who wasn't a Nazi. Makos published two stories as a result of his interviews with Stigler and Brown. But his readers clamored for more. That's when the idea for this book was conceived. It was a prolonged gestation that took eight years for delivery.
Research for the book reads like a travelogue. The author chased down aging survivors, visited airfields in Germany and Austria, and dug for rare documents at the German Bundesarchivs, the National Archives in England and the U.S. Air Force Historical Research Agency. Wonderful real-time photographs of Brown and Stigler and the men with whom they flew augment the book.
Franz Stigler's is the most absorbing story, perhaps because it incorporates facts not widely known. He and his brother grew up building and flying gliders under the direction of their father and the family priest, Father Josef. The two former WWI pilots founded a glider club "to teach boys how to enjoy the only good thing the war the war had taught them –– how to fly." But the boys got more than aeronautics lessons. They learned about moral clarity and persistence in the face of adversity. Franz intended to be a priest until he realized that what he really wanted to do was fly. He always made certain his rosary beads were zipped into his jacket pocket.
By April 1942, he was flying Messerschmitts, Bf-109 fighters, from the Martuba Airfield in the Libyan Desert. He was part of Fighter Wing 27 (JG-27) tasked to protect General Erwin Rommel's Africa Corp from the Desert Air Force of English and other squadrons from all nations of the British crown. The JG -27 pilots were outnumbered five to one.
Martuba Airfield was where Franz met flying ace Gustav Roedel and the legendary Hans-Joachim Marseille, known as the "virtuoso of all fighter pilots." Both men were major influences on newly minted fighter pilot Franz Stigler. It was Roedel who, told Franz:
"Those odds may make a man want to fight dirty to survive. But let what I am about to say to you act as a warming. Honor is everything here. … If I ever see or hear of you shooting at a man in a parachute, I will shoot you down myself.

You follow the rules of war for you, not for your enemy, Roedel said. You fight by rules to keep your humanity." (Author's emphasis.)
In a nation led by brutes, Franz Stigler's story is about the men who refused to subscribe to barbarism.
With the war all but lost, Franz was transferred to Squadron 6 in Italy, now led by Roedel. Their efforts to defend against the Allied invasion were futile. Waves of Allied fighters overwhelmed them. The casualty list grew, as did surviving pilots' exhaustion. Reich Marshall Goering, much despised by the men who actually fought, issued this Teletype from Berlin:
Together with the fighter pilots in France, Norway and Russia, I can only regard you with contempt. I want am immediate improvement in fighting spirit. If this improvement is not forthcoming, flying personnel from the commander down must expect to be remanded to the ranks and transferred to the eastern front to serve on the ground.
Franz and his colleagues now faced enemies in German uniforms. The Gestapo was seeking out "traitors" to blame for Germany's defeats, Franz was under suspicion, but thanks to the help of his senior officer, he was not arrested or incarcerated in a concentration camp to be shot or hung, the fate of other "suspects."
Now his job was to stop the bombs from dropping on Germany. Franz was sent to Germany to shoot down B-17 bombers.
The narrative returns to West Virginia farm boy Charlie Brown. He never missed a day of school or a Sunday at church. To earn money for his family he worked as the janitor at the local elementary school every night and on weekends he served in the National Guard. After high school he transferred to the full-time army and then to the Army Air Corp.
In December 1943 Charlie was in England. "Although he was only twenty years old, he wore the gold bar of a second lieutenant on his tan shirt collar." He was also a devout Methodist who kept his Bible in the chest pocket of his leather jacket.
Charlie and his crew, self-described as "the quiet ones," became part of the 379 Bombardment Group flying B-17s to German industrial targets. Their plane, Ye Old Pub, was on one of those missions when the legendary encounter between Franz and Charlie took place. Badly damaged by German anti-aircraft flak, The Pub lost speed. Soon the rest of squadron was out of sight. Ye Old Pub was alone in hostile skies.
That's when eight German Focke-Wulf 190 fighters appeared, blocking The Pub's path to the North Sea and England. There were so many holes in the fuselage that arctic air encased all but one gun in ice, making them useless. The author's description of Charlie's heroic jousting with the fighters is riveting. Somehow, despite horrific damage, The Pub kept flying and the bullets kept coming. Crew members were shocked, some wounded, one critically, one had died of his wounds, and all nearly frozen. The oxygen system was hit rendering Charlie and his co-pilot unconscious and sending the plane into a deadly dive. Charlie somehow awoke in time to pull up and struggle for altitude. The fighters were gone; no doubt surmising the bomber was finished.
That's when Franz Stigler, parked at a rural German airfield, heard the B-17 and figured he would complete the number of downed enemies required to claim the Knights Cross. But when he reached the struggling bomber he was amazed. He had never seen an airborne plane with anything like the damage inflicted on The Pub.
Charlie told the crew they could bail out, but he was going to try to make England. He knew that was the only chance the badly wounded crewman had to survive. The "quiet ones" refused to leave. They had fought together and, if need be, they would die together.
What Franz saw wasn't an enemy. It was a brave brother pilot struggling against all odds to save his crew. Despite the ramifications, Franz knew he could not live with himself if he was the agent of their destruction. He was not a member of the Nazi Party and had never agreed with their philosophy. Like Roedel, and most other Luftwaffe pilots, he was guided by another code of conduct. German Air Force pilots were known to race to take charge of downed opponents to prevent the SS from taking them prisoner.
Franz shepherded The Pub past German coastal anti-aircraft guns, gambling that the gunners wouldn't shoot at the bomber if they thought a German fighter was moving in for the kill. This reviewer will not spoil the author's compelling account of the damage Franz saw and what Charlie and his co-pilot thought about the German pilot's strange behavior.
Franz returned to base, hoping no one on the ground saw what he did and notified the Gestapo. How Charlie piloted the limping B-17 back to England is another amazing tale that should be read in full. Makos is a master writer and even though the outcome is known, readers will find their pulse-rates accelerating.
Charlie and his crew were sworn to secrecy. Their superiors feared that if their story was known it might result in hesitation in combat with fatal results. That was lucky for Franz. Had the story gotten back to Germany he might have been identified as the pilot who didn't shoot down an enemy. His penalty would have been death.
For 45 years each wondered about the fate of the other. That the two pilots found each other is almost as much as much of a miracle as their survival. It is another saga, flawlessly told in evocative prose by a skillful writer.
Read the book before the movie comes out.