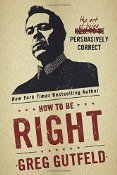 While home for Christmas break, my son read Greg Gutfeld's new book (in an afternoon) and reviewed it on his blog on the same day.
It's a darn good review, if I do say so myself.
Source: You Can Fight Without Ever Winning, But Never Win Without a Fight — A Review of 'How to be Right' | Reb on the Red Line
Blogger son (aka Orwell Bradbury) is a political junkie. Â Because he got a full-ride scholarship, and because he realizes that whatever education he gets will be up to him, good or bad, he chose to attend the University of Las Vegas.
At times he does express some regret for this purely monetary decision.