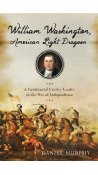 William Washington, American Light Dragoon by Daniel Murphy
This readers's interest was piqued concerning William Washington after reading John Ferling's Almost A Miracle. So when the Westholme sent WWTFT this new book, it quickly made it to the top of the stack.
Author Daniel Murphy was probably the perfect person to write this short biography of George Washington's second cousin. According to the dust jacket:
[Murphy] is classically trained fencer, avid equestrian, and eighteenth century living historian.
There is a bunch of other stuff too, but it was the equestrian and eighteenth century living historian part that really came out during the book. Murphy clearly knows what he is talking about when describes battle on horseback. He knows horses, and is able to shed light on the various techniques and their advantages and disadvantages on different terrain and against opponents of various types.
This is a good thing, because unlike his famous cousin, this Washington didn't leave behind a lot of written record and some of the details of his life are relatively scant. Nonetheless, Murphy was still able to cobble together a pretty good picture of the man.
Part of the reason that the information about William Washington's life is so scanty had to do with the man's character. He was at the same time a hard charging fighter and a man who didn't boast about his accomplishments or engage in the political infighting that was unfortunately common among ambitious young officers seeking career advancement.
Washington was a hands on commander, a soldier's soldier fully secure in his own image; when he posed for his portrait he did so without a powdered wig or dressed hair, a novelty for most any field officer of his day, which shows what an honest, common sort of person he was at heart. The war was in the past in Washington's mind and he was content to let others write the history.
The picture of William Washington that emerges in American Light Dragoon, is of a man who was at ease with his men, who believed in what he was doing, and not afraid of a scrap.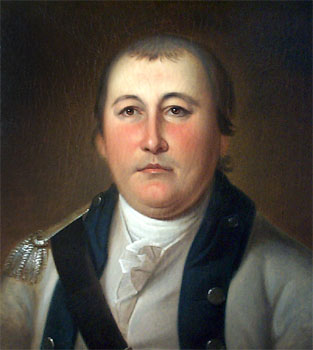 Like his more famous cousin, William Washington was tall and strongly built, and an excellent horseman. (After the war he loved to race horses). Several legends about William Washington emerged after the war, including a supposed man to man encounter with his legendary (and infamous) counterpart Banastre Tarleton at the battle of Cowpens. Whether the encounter actually took place is still up for debate, but Murphy examines numerous accounts and leaves it up to the reader. But Murphy's analysis of the event, illustrates his understanding of fighting on horseback. If indeed it was Tarleton and Washington engaging in single combat on the field, one or the other had his sword broken in the course of the fight.
A thrust blade always suffered the hazard of being parried and binding in an opponents webbing or saddlery and if the thrust was made at speed as when the third officer "charged upon Washington" the blade could easily twist, bind, and break as the two parties passed on speeding horses. Once the enemy officer's sword was broken he wheeled out of range, drew a pistol and took a shot at Washington. If it was Washington's sword that was broken in the exchange, the officer would have closed in and dealt a blow-not wheel out of range and fire a pistol. A second source lends further evidence for this scenario and comes from the 3d Light Dragoon James Kelly, who wrote that "Washington made a hack at Tarlton and disabled Tarlton's fingers & glanced his head with his sword." Kelly was a long serving veteran of the 3d, and if Washington had somehow clipped the enemy officer with his sword in this quick brawl of darting horses and ringing blades, it also follows that the officer might wheel out to a safer distance and draw a pistol.
Murphy offers similar insights into other battles in which Washington played an important role. One of the most interesting, was the ruse he concocted at Rugely's Mill. Rugely's Mill was a fortified back- country strong-point held by a Tory Militia commander with the same name. At the time Washington was attached to Daniel Morgan's famous "flying army" and Morgan "having gained confidence in Washington's abilities, detached Washington and his light dragoons to try and take Rugely's Mill, …"
Washington arrived just after dark on December 1st and found that the position was more fortified than expected. It was more stockade than mill with a large fortified barn enclosed within a surrounding wall of stout pine logs and peppered through with loop holes and sally ports from which to fire muskets. A towered platform was erected in the center of the walled barnyard to allow of a second tier of musketry to rain down on any attackers, and the whole enclosure was lined with abatis to prevent a cavalry charge. Inside was an unknown number of men but the sally ports were bristling with musket barrels and Rugely quickly refused Washington's call for surrender.

Washington knew he couldn't take the position with cavalry alone but he soon formed a plan and sent his men out of sight and sound. He had them cut down a pine tree, for the log to the shape of a six-pounder cannon and scald it black with a torch and soot. A baggage wagon was disassembled and the "cannon" was mounted on the running gear's axle. Washington next dismounted a small section of troopers and had them haul the pine cannon back up toward the walls of the fort in plain sight of the defenders inside.

Washington then picked out a veteran ranker and sent the man forward with a second summons for surrender. He added the stipulation that if Rugely didn't surrender this time Washington "would blow them across the mill pond." One can assume the veteran ranker added a few choice words of his own to the request and Colonel Rugely instantly surrendered the fort without a shot being fired. One hundred men filed out with clubbed arms and Washington promptly burned the fort to the ground. ...
These and other incidents show what kind of man Washington was, but perhaps the best summation of William Washington's story is in Murphy's words.
Harlem Heights, White Plains, Trenton, Brandywine, Germantown, Monmouth Courthouse, Rantowle's Creek, Monk's Corner, Lenud's Ferry, Rugely's Mill, Hammond's Store, the Cowpens, Weitzel's Mill, Guilford Courthouse, Hobkirk's Hill, Eutaw Springs, and hundreds of daily scouts, skirmishes, vans, vedettes, reencounters, and rear guard postings attest to the fact that Washington was a keen judge of both character and circumstance or he never would have survived the war. His record was far from perfect, however, there are few soldiers of the revolution whose combat resume would eclipse Washington's, and far fewer who landed as many battle turning blows on different fields.