More good news from our friends (NOT) the Russians.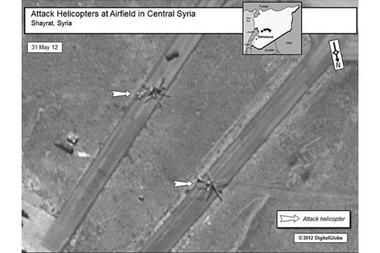 But don't worry.  Secretary of State Hillary Clinton is "concerned."  Probably because Obama needs his space … until after the election.  (With any luck, he'll have lots of space – out of the White House.)
In other tough sounding words, Secretary of State Clinton added that the shipment of Russian helicopters
will escalate the conflict dramatically.
Oooh.  I'm sure Assad is trembling – or for that matter Putin.
Asked why the Pentagon isn't blocking Russian weapons shipments to Syria, Defense Department officials noted that the administration hasn't declared an arms embargo. Navy Capt. John Kirby, a Pentagon spokesman, accepted the argument that Moscow's resupplying of helicopters enables the regime to kill its own people, but said the key issue is how the Syrians use the materiel.

…

In recent days, the State Department has decried what it calls "horrific new tactics" by Syrian forces, including helicopters attacks on civilians.
But never fear, after all says Clinton,
We are watching this very carefully
Full story here: US: Russia sending Syria attack helicopters – WTOP.com.