The rule of law is the foundation for our liberties and our economy.  It simply means that we can organize our lives, operate our businesses and plan our futures in the certainty that the laws of the land apply to each of us equally.  It means that no one is above the law, not our neighbor and not our president.
At least that's the way the system is supposed to work. However, this president sees things differently.  By President Obama's directive illegal immigrants from the ages of 15 to 31 will no longer be apprehended and deported as the law requires.  His decree enables them to apply for work permits, obtain Social Security numbers and driver's licenses and apply for financial aid for college.
According to the Arizona Republic, "The Department of Homeland Security said in updated guidelines for Obama's Deferred Action for Childhood Arrivals program that undocumented immigrants who receive deferred action are authorized to remain in the U.S. and, therefore, 'are lawfully present' even though they still do not have 'lawful status.'"
That thumping you hear is George Orwell turning cartwheels in his grave.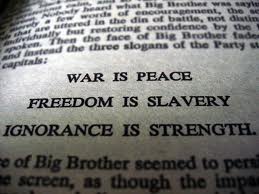 (Note that the subjects have morphed from illegal to undocumented immigrants.) Orwell said political speech and writing corrupt language, but noted that language also corrupts thought. The "updated guidelines " are a case in point.
This blogger is not arguing against reform of immigration laws, but only for reform that respect the rule of law and are accomplished through the constitutional process that has served he nation well for more than 200 years.
In his book "The Totalitarian Temptation, (1976) Jean-François Revel warned that the monopolization of the media and the means of enforcing obedience represent a great temptation for tyrants who wish to transform societies quickly and on a mass scale.  He also observed that those efforts haven't worked out well.  Revel condemned liberals of his day for rejecting capitalism, which produces wealth and freedom but is imperfect, while being drawn to communist ideology despite its record of misery and slaughtered innocents.
John Gray, professor emeritus at the London School of Economics, expanded on Revel's view, "Communist regimes engaged in mass killing in order to achieve these transformations, and paradoxically it is this essentially totalitarian ambition that has appealed to liberals…  liberals have seen the Communist experiment as a hyperbolic expression of their own project of improvement; if the experiment failed, its casualties were incurred for the sake of a progressive cause.  To think otherwise – to admit the possibility that the millions who were judged to be less than fully human suffered and died for nothing – would be to question the idea that history is a story of continuing human advance, which for liberals today is an article of faith.  That is why, despite all evidence to the contrary, so many of them continue to deny Communism's clear affinities with Fascism.  Blindness to the true nature of Communism is an inability to accept that radical evil can come from the pursuit of progress."
What else will President Obama decree the "right thing to do?" We have four years in which to find out.