Once you eliminate the impossible, whatever remains, no matter how improbable, must be the truth.  Arthur Conan Doyle Sr.
Breitbart.com featured several interesting articles last week, complete with documentation, which have gone decisively unreported by the MSM.  The first of these articles is prefaced with the following: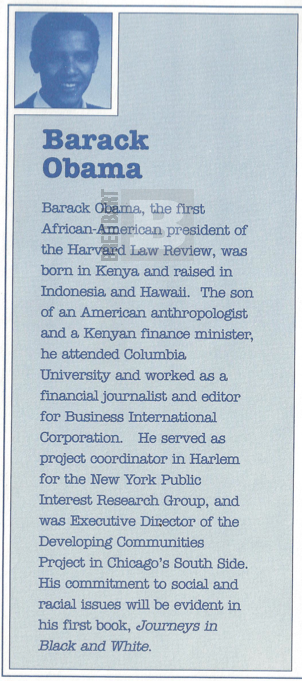 Note from Senior Management:
Andrew Breitbart was never a "Birther," and Breitbart News is a site that has never advocated the narrative of "Birtherism." In fact, Andrew believed, as we do, that President Barack Obama was born in Honolulu, Hawaii, on August 4, 1961.

Yet Andrew also believed that the complicit mainstream media had refused to examine President Obama's ideological past, or the carefully crafted persona he and his advisers had constructed for him.

It is for that reason that we launched "The Vetting," an ongoing series in which we explore the ideological background of President Obama (and other presidential candidates)–not to re-litigate 2008, but because ideas and actions have consequences.

It is also in that spirit that we discovered, and now present, the booklet described below–one that includes a marketing pitch for a forthcoming book by a then-young, otherwise unknown former president of the Harvard Law Review.

It is evidence–not of the President's foreign origin, but that Barack Obama's public persona has perhaps been presented differently at different times.
As for WWTFT, we've never taken a position one way or another on where Obama was born.  To us, it seemed a distraction and a sideshow, at best another symptom of the MSM's stolid determination to avoid even the pretense of vetting Obama.
Ironically, at about the same time Breitbart.com broke the story of Obama's literary bio, likely approved or even submitted by Obama himself, depicting him as having been "born in Kenya and raised in Indonesia and Hawaii," Yahoo! was firing it's latest CEO – for fudging his resume by claiming a degree in Computer Science, which in fact, he did not have.  Like Scott Thompson, the president's minions are trying to spin the story as a "fact checking error."  Which is the only thing they can do, because there are only three alternatives:
Obama constructed a fictional biography and is a self-serving liar, who will construct whatever narrative he needs in a given situation – i.e. he was lying then but not now – at least about this
Obama was telling the truth then, and is lying now
It's someone else's fault for concocting this biography, which he let stand for 16 years, unaddressed.
Obama's narcissism is well-documented.  The idea that he would not have read the biography published about him, in order to sell his book, is about as believable as Scott Thompson's claims.
The ex-Yahoo! CEO is just the latest in a series of individuals found guilty of manipulating their bios to advance their careers, or gain political advantage. Elizabeth Warren's 1/12,000th American Indian claim, comes to mind.  Going back a few years, a well-known newspaper publisher (Duke Tully) fell from grace when it was discovered that his military career was fabricated.  Even the hallowed halls of academia aren't immune.  In 2001, popular historian Joseph Ellis was exposed for his fictionalization of his own history as a Vietnam War vet.  But powerful and influential as these people might be, none of them was running for president.
However, looking into Obama's past is taboo. The merest suggestion that there might be something amiss in his background immediately provokes accusations of being a birther, a racist, or a conspiracy theorist.  The whole issue of Obama's nationality has been used to provide cover for any query into his past.
So, how far back are we talking about?  Is this ancient history?  No.  This biography appeared in on the publisher's website as recently as 2007 – just after Obama kicked off his presidential campaign.  See Archive.org.
If the response to these new revelations devolves into another wrangle about his place of birth, the public will be poorly served, again. The shocker is not apparent support for birthers' allegations, but that Obama was able to run for president of the United States with his academic record, his political associations, his experience; everything that would reveal his character and his views never probed by the MSM. The discussion now should be how Obama got a pass in 2008, without even cursory investigative journalism.
In a land of opportunity, people are supposed to be able to rewrite their future, but that doesn't generally include creating or adjusting their past to align with their ambitions.
The MSM penchant for cosseting Obama has prevailed throughout his presidency. His outrageous exaggerations and distortions of fact are unquestioned. Stories that cast a negative light on the administration are ignored, or incorporate the administration's spin. Sometimes the Internet and Talk Radio force publication as in the Fast and Furious and Black Panther voter intimidation stories. The MSM has functioned as a cheerleader for Obama and his administration from the beginning.
The leftward tilt of the MSM needs no reiteration here. For starters, readers can refer to A Measure of Media Bias by Tim Groseclose and Jeffrey Milyo; The Invisible Primary, Invisible No Longer, A First Look at Coverage of the 2008 Presidential Campaign by the Project for Excellence in Journalism and Harvard's Joan Shorenstein Center on the Press, Politics and Public Policy.
We will never know if a thorough vetting of candidate Obama would have penetrated the mystique of electing a black president and changed the outcome of the 2008 election. WWTFT would like to believe that had the MSM closely questioned Obama about what he meant by "transform" America, and the "change" he intended; some voters would have had second thoughts. In any case, the MSM betrayed its mission and the public trust.
No experiment can be more interesting than that we are now trying, and which we trust will end in establishing the fact, that man may be governed by reason and truth. Our first object should therefore be, to leave open to him all the avenues to truth. The most effectual hitherto found, is the freedom of the press. It is, therefore, the first shut up by those who fear the investigation of their actions." –Thomas Jefferson to John Tyler, 1804. ME 11:33
The Founders thought in terms of restraining government from inhibiting the free flow of information. They could not have foreseen that a latter day press would be complicit in its own censorship.