At the heart of our communal discontent is most aptly called decadence. Decadence is the decay that results from the hollowing out of meanings. When decadence is in full swing, meanings are not simply hollow but we exult in gutting them. This we call autonomy, liberation, freedom. We are liberated from duty, from honor, from country…   Richard John Neuhaus, 1936 – 2009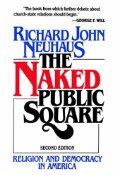 The roving mobs camped out in many of our city centers rekindled this commentator's memory of the book from which the above quote was taken.  The quote describes "the freedom of the naked public square."
The Naked Public Square (the book's title) is one in which Judeo-Christian values have been excised from political practice and theory.  The over-indulged, rootless youth, aging hippies, would-be Marxists, bored thrill seekers, druggies, and aggrieved are as much products of the relativism that long ago captured American education as of the on-going recession.
Their complaints are rife with contradictory statements incapable of rational defense.  Interviews dissolve in incoherence.  According to Aristotle, it is impossible to discuss virtue with people who are "handicapped by some incapacity for goodness."  The occupiers are handicapped by believing that virtue does not exist.
…If this country is to be overthrown from within or without, I would suggest that it would not be overthrown by Communism.  It will be overthrown because it will have made an impossible experiment.  It will have undertaken to establish a technological order of most marvelous intricacy, which will have been constructed and will operate without relations to true political ends: and this technological order will hang, as it were, suspended over a spiritual vacuum.  This would be the real danger resulting from a type of fallacious, fictitious, fragile unity that could be created among us.
In 1984, (the year The Naked Public Square was published), political correctness had not yet become the national imperative it is now.  Nature, however, abhors a vacuum.  As Neuhaus writes in another chapter, when the procedures of the republic still survive but with their basis subtracted, the state becomes committed to relativism.  Necessity is what the state says it is today.  Tomorrow will have other purposes and require new definitions.
Pluralism, having now acquired a mantle of invincibility, no longer describes conflicting interests.  It now represents  "an agreement to count all opinions about morality as equal… because we are agreed that there is no truth by which judgment can be rendered."
President Obama's frequent departures from fact to constructions of reality more accommodating to his purposes; Nancy Pelosi's outrageous distortions of political opponents' positions (Republicans want to see all women dead on the floor); and Erich Holder's selective law enforcement are all manifestations of the ascendency of the relativistic state.  Like Humpty Dumpty in Alice's Adventures in Wonderland, "Words mean what I (they) say they mean, no more and no less."
The Naked Public Square has greater relevance now than when it was published 27 years ago.  The author forecast our reality: rule by experts and the ever-growing bureaucratic state.  Thus did the president and his party impose an "independent group of doctors and medical experts" empowered to "eliminate waste and inefficiency" by making life and death decisions for everyone else.
Neuhaus warned of the peril of forgetting that "constitutions work only as they reflect an actual sense of community."
Whether our system will continue "to work" is not yet known.  If we look to history (and recent events in Europe) we learn that aggregations of disaffected youth have a propensity for lawlessness, either because they are manipulated into violence or because of some accidental event.
If experience is a guide, the Democrats' declarations of solidarity with the mobs are irresponsible to a fault, and they may have reason to regret them.  Sadly, so may the rest of us.