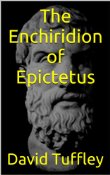 This is a something worth reading more than once. Â  It was on this this reader's list for at least 20 years, before finally getting around to it. Â Epictetus and his stoic philosophy figures prominently in Admiral Stockdale's book about his experiences as a P.O.W.
There is a lot to be admired in the stoic philosophy.
The Handbook starts off with a very simple premise about choices and the recognition of what is and what is not within our power to control.
Some things are in our control and others not. Things in our control are opinion, pursuit, desire, aversion, and, in a word, whatever are our own actions. Things not in our control are body, property, reputation, command, and, in one word, whatever are not our own actions.

The things in our control are by nature free, unrestrained, unhindered; but those not in our control are weak, slavish, restrained, belonging to others. Remember, then, that if you suppose that things which are slavish by nature are also free, and that what belongs to others is your own, then you will be hindered. You will lament, you will be disturbed, and you will find fault both with gods and men. But if you suppose that only to be your own which is your own, and what belongs to others such as it really is, then no one will ever compel you or restrain you. Further, you will find fault with no one or accuse no one. You will do nothing against your will. No one will hurt you, you will have no enemies, and you not be harmed.
There is a lot being said there. The rest of the handbook is an amplification of these principles through example and precept.
On humility

If anyone tells you that such a person speaks ill of you, don't make excuses about what is said of you, but answer: " He does not know my other faults, else he would not have mentioned only these."

On reality
These reasonings are unconnected: "I am richer than you, therefore I am better"; "I am more eloquent than you, therefore I am better." The connection is rather this: "I am richer than you, therefore my property is greater than yours;" "I am more eloquent than you, therefore my style is better than yours." But you, after all, are neither property nor style.

On self control

Remember, that not he who gives ill language or a blow insults, but the principle which represents these things as insulting. When, therefore, anyone provokes you, be assured that it is your own opinion which provokes you. Try, therefore, in the first place, not to be hurried away with the appearance. For if you once gain time and respite, you will more easily command yourself.



If a person gave your body to any stranger he met on his way, you would certainly be angry. And do you feel no shame in handing over your own mind to be confused and mystified by anyone who happens to verbally attack you?

On self confidence

When any person harms you, or speaks badly of you, remember that he acts or speaks from a supposition of its being his duty. Now, it is not possible that he should follow what appears right to you, but what appears so to himself. Therefore, if he judges from a wrong appearance, he is the person hurt, since he too is the person deceived. For if anyone should suppose a true proposition to be false, the proposition is not hurt, but he who is deceived about it. Setting out, then, from these principles, you will meekly bear a person who reviles you, for you will say upon every occasion, "It seemed so to him."

The Enchiridion gives one a lot to consider.