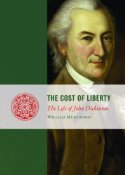 The Cost Of Liberty
The Life of John Dickinson
by William Murchison
This is a good book, a really, really good book.
Supporting this contention is not terribly difficult. First of all, from a purely superficial point of view, ISI Books has done a fantastic job with the presentation of this book (and others in the series.) The Cost of Liberty is a pleasure to hold and read. This reviewer even eschewed his normal markup of the review copy. This is a quality production and it will hold a place in the WWTFT library for a long time to come. The text is nicely presented in Adobe Garamond 11pt font throughout a concise, but thorough 216 pages. Additionally, there are about 20 pages of footnotes.
The dust jacket of the book shows a portion of a portrait of Dickinson done by Charles Wilson Peale. Aside from this, the book features no other illustrations. It doesn't need them.
Author, William Murchison's clear and crisp writing style describes an under-appreciated, and indeed, often-misrepresented founding father. Murchison describes Dickinson as a genius, but not a notably original thinker. Far from being a criticism, this conclusion is a good explanation of the important role Dickinson played during the War of Independence, a steadying force. While Dickinson did not produce new political philosophies, he absorbed and applied the lessons he learned from history. Dickinson shared some similarities with his contemporary Edmund Burke. Both men were conservative thinkers who wanted to avoid precipitous, or ill-conceived actions, whose consequences were neither fully thought through or dimly considered.
Declaring independence from England before America was prepared to deal with the consequences of doing so, seemed injudicious and rash to Dickinson. This is not to say that Dickinson was not an ardent patriot. Dickinson's Letters From a Farmer were an appeal to his countryman to firmly, but peaceably resist the encroachments of Britain on the rights of colonists.
… to convince the people of these colonies that they are at this moment exposed to the most imminent dangers; and to persuade them immediately, vigorously, and unanimously, to exert themselves in the most firm, but most peaceable manner, for obtaining relief.
Murchison explains that Dickinson's Letters From a Farmer differ from the stirring, inflammatory rhetoric of Patrick Henry, or that which characterized the writings of Thomas Paine a few years later.
A reader expecting the Farmer to thrust a powerful fist in the air and call out, with Patrick Henry, for King George III to caress his royal neck with apprehension is due for some disappointment. The Farmer, far from crying out for rebellion, wished to know, "if once we are separated from our mother country, what new form of government shall we adopt, or where shall we find another Britain to supply our loss? Torn from the body, to which we are united by religion, liberty, laws, affections, relation, language and commerce, we must bleed at every pore."
Nevertheless, the Letters were widely read and very influential. Dickinson, like Burke in his Reflections on the Revolution in France, recognized the dangers inherent in tearing down the edifice of government without having a plan for replacing it. Dickinson and Burke didn't deny that there were problems, but argued for incremental change rather than "innovation", a dirty word to Burke.
A spirit of innovation is generally the result of a selfish temper and confined views. People will not look forward to posterity, who never look backward to their ancestors. Edmund Burke
Dickinson took this same measured approach in the congress out of which the Declaration of independence would ultimately be produced. In the end Dickinson refused to sign this first founding document. In Murchison's opinion, Dickinson's refusal to do so has been unfairly presented in both the musical, 1776 and more recently in the HBO mini-series John Adams.
Murchison points out that Dickinson, upon leaving the congress, reported immediately to the militia to take up arms for his fledgling country, something only one actual signer ever did. It wasn't cowardice that prevented Dickinson from signing the Declaration, it was conscience. He simply didn't think it was the best approach, or the right time.
Dickinson served a few other times as well, as a mere private during the battle of Brandywine, after which he was "plucked out of the ranks" by the governor of Delaware and promoted to brigadier general of the militia. Poor health prevented him from serving in this capacity for more than a few months. During the course of Howe's depredations, Dickinson's home was destroyed, along with that of Robert Morris, the financier of the American Revolution.
Aside from his military service, Dickinson also lent his considerable talents to ensuring that there was a plan for eventual success. He produced the first draft the Articles of Confederation and was part of the Constitutional Convention, a founding document to which he did affix his signature (via Joseph Reed). As in all things, Dickinson argued for the big picture, a long-term view of producing something not expedient but of lasting value.
We are not forming plans for a Day, Month, Year or Age, but for Eternity. Let us endeavour with united Councils to establish a Government that not only may render our Nation great, respectable, free, and happy, but also VIRTUOUS. Let us try to combine political Establishments with moral Virtue, that if possible the first may be equal with the Duration of this World and an aid, or at least not a Hindrance, to the Enjoyment of another.
He argued for ratification in a series of nine letters published in a Delaware newspaper in 1788, known as The Letters of Fabius. Unlike the Federalist Papers, written by Hamilton, Madison and Jay, Dickinson's articles took a a broader view and returned to his favorite theme, that of learning from the lessons of the past.
Experience must be our only guide. Reason may mislead us.
But it really wasn't only the experience and hard-earned wisdom of prior generations, to which Dickinson turned. Dickinson also recognized the duality between liberty and responsibility. Murchison sums this up in his closing valedictory to Dickinson.
The gift of John Dickinson to succeeding generations is the example of faith in God's authority over human affairs, and in liberty itself as evidence of the human destiny to lives of joy, dignity, and solemn gratitude.