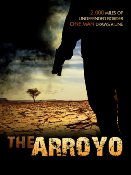 Bill Whittle, best known for his PJ Media Internet videos, has added a full-length movie to his considerable list of achievements. Titled The Arroyo, it can be viewed and/or purchased from AmazonMovies.com. It is an extraordinarily well-done film that puts the real human tragedy occurring on America's border with Mexico into a fictional account. The rest of America has had occasional glimpses of the property destruction, dangers and frustrations endured by ranchers whose lands are adjacent. The protagonist is rancher Jim Weatherman who, in anger and desperation, attempts to do what local and federal authorities aren't doing, protect his ranch and family from the depredations of "coyotes" who traffic in human beings and drugs.
It is not, as the lefties will claim (in the unlikely event they ever watch the film), an endorsement of vigilantism. It is first and foremost a reality-based expose' of how political correctness his morphed into cowardice on both the local and national levels. Particularly telling vignettes feature a local sheriff running for re-election, fearful of being accused of being racist, and a congressman who arrives with platitudes, not solutions, but chastises the ranchers for "over reacting" when they demand secure borders. Another revealing dialogue comes from the drug cartel's murderous enforcer who observes that, Weatherman excepted, America has grown soft. It is no longer willing to defend itself, poisoned by a political culture that denigrates the America that others are willing to risk their lives to enter. "Everyone wants what you have. And you people hate yourselves for having it. What is happening is inevitable."
Weatherman does not go forth with a gun. He tries to discourage the trespassers by calling attention to their passage with lights. He tells them to stay off his land. He does not want to create a mass movement and become its leader. His only motive is to protect his land and his family, to "do the right thing." However, when his friend and neighbor is gunned down in retribution, events get out of hand. Revealing the rest of the fast-moving plot would spoil the film.
The Arroyo is an absorbing depiction of porous borders, the marauders who cross it with impunity and the illegals they control and sometimes rape and kill. It is superbly acted and directed. Too bad Congress cannot be required to view it.