Guess what?  September 17  is Constitution Day.  It is observed on Friday, 16 September.  However, we are going to observe it for the entire week.  Why not?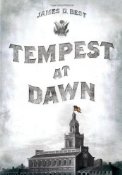 So, in honor of the Constitution, we thought we'd see if there were any aspiring bloggers out there who'd like to submit their thoughts on the Constitution for publication on WWTFT.
Here's the deal.  If you submit your article to WWTFT and we publish it, we'll send you a free copy of Tempest at Dawn, a fascinating story set during the Constitutional Convention.
To submit your article, fill out the form below and cut'n'paste your article into the text box provided below.  We'll take submissions from now until September 16.  So get writing!
NOT SO FINE PRINT:  Please submit only original materials that do not appear elsewhere on the web, prior to publication on WWTFT.  Full attribution to the author will be given on WWTFT.  In submitting your article you agree to share copyrights with WWTFT, while retaining your own rights.
If we use your article, we'll contact you and ask for your address so that we may send you a copy of Tempest at Dawn.