Who knew that when Mitt Romney said those four words, "I love Big Bird," it would have caused such a stir? Of course, he mentioned Big Bird in relation to ending federal subsidies to PBS. President Obama and his liberal base were outraged. Apparently liberals can't get through a week without their subsidized episodes of (Best of) Joy of Painting or Sewing with Nancy.* Naturally, Big Bird got all the press and, in an effort to relive Obama's stellar debate performance, his campaign spent the next week talking about little else.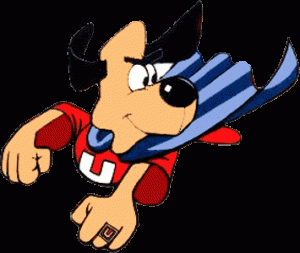 A bit of historical perspective is in order. In the early days of public television there were only three broadcast networks and one or two local channels in most cities. Weekday television for kids consisted of the occasional Roger Ramjet or Underdog cartoons. Except for the R or U on their respective chests, not much spelling could be gleaned by young viewers. (But Roger and Underdog saved the day nearly every time!)
PBS is due to get around $450 million in federal dollars next year. Sesame Street even got $1 million in stimulus cash to promote healthy eating. (Presumably, the Cookie Monster ate a carrot before devouring his Lorna Doones.) With that stimulus money they officially created 1.47 jobs. That's one full Bert and almost half an Ernie!
Don't get me wrong, I'm with Mitt, I like Big Bird and all of Sesame Street. Millions of children have grown up with it. It helped them learn their letters and numbers. Given the huge annual deficits incurred on Obama's watch, he and his budget staff could probably use a refresher. Sesame Street also teaches kids to treat others equally, regardless of the color of their felt. But Sesame Street is a licensing and merchandising cash cow. It rakes in millions each year. Many PBS executives pull down six-figure salaries as well. Even Big Bird's take is over $300,000 annually. That can help create quite a nest egg. (Sorry, couldn't resist the pun.)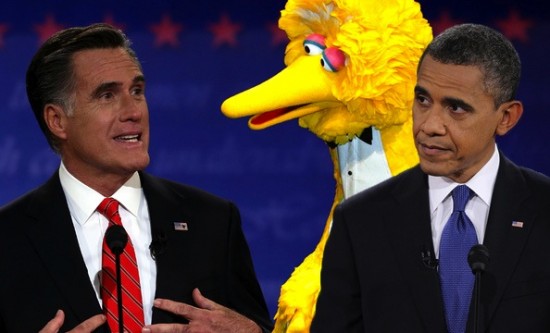 The Obama campaign seems to have over-played its hand with Sesame Street. Scorn and ridicule toward a campaign ad is not the reaction one really wants less than a month before the election. Big Bird wants no part of his campaign. In fact he may be leaning towards Romney by now. Grover and the Count, we understand, are also in the Romney camp. (Oscar the Grouch is still a Ron Paul holdout. Figures!) The lyrics to the Sesame Street song go, "Can you tell me how to get, how to get to Sesame Street?" The Obama campaign is now singing, "Can you tell me how to get, how to get out of this big hole we have dug for ourselves?" I know, not real catchy. Very few are singing along. Axelrod said, "Sorry, it's not in my key." Stephanie Cutter added, "Can't, I've got a sore throat."
One wonders why the Obama campaign has spent so much time on the subject, thereby reminding voters of his campaign performance which, to be kind, was dreadful. This week also brought the revelation that he walked off the stage thinking he had won the debate. And he calls Romney out of touch? The old conventional wisdom among the media types: Smartest guy on the planet. The new conventional wisdom: Who let that guy on stage?
Look, I also coach high school basketball and have been on both sides of routs. I don't need to look at the scoreboard after a game to see if we won or lost. I already know. My players know. Anyone watching the game knows. The scoreboard merely provides the confirmation. The only people who don't know are those who aren't there. Perhaps, that explains why Obama thought he won the debate – he didn't show up. Maybe they should hold the next debate in the Hofstra University gym and use the scoreboard. That might help him out. But really, when Romney took a knee at the end of the debate, it should have given Obama a clue.
*There really is a Best of Joy of Painting? Really?
Curtice Mang is the author of the new book, The Constitution – I'm Not Kidding and Other Tales of Liberal Folly. He can be contacted at www.mangwrites.com, where one can also purchase his book; or contact Curtice at mangwrites at cox.net.