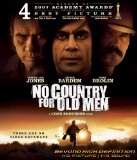 From an acting perspective, the movie was extremely well done. The characters were sharply and poignantly portrayed. It shared some similarities in that regard to Fargo.
In terms of the movie's message, ostensibly that the world is going to hell in a hand basket (a point of view I'm not sure I disagree with), and that people holding on to the old values and social mores of decency and morality, are ill-equipped to deal with this new level of evil; I wonder.
Maybe that's true. Tommy Lee Jone's character, the small town Sheriff, seems to come to that conclusion in his closing soliloquy. It would appear that he is ready to "be done" and has come to the conclusion that the kind of world he has found himself in, is not one worth participating in.
These are philosophical thoughts I found myself thinking upon reading Vince Flynn's Extreme Measures. Is there a point at which descent to the level necessary to fight this kind of evil just becomes pointless in that it makes each side indistinguishable from the other? In other words, "What profit a man if he gain the whole world, but lose his own soul?" Or perhaps Nietzsche's: "He who fights with monsters might take care lest he thereby become a monster. And if you gaze for long into an abyss, the abyss gazes also into you."
So, from the aspect of making one think, the movie was a success.
From an entertainment perspective, it was a downer. Too much realism for me, I want to suspend disbelief but be aware that I am doing so. In this movie, there wasn't so much to suspend disbelief of. I'd put this in the same category as "American History X".
From a story-line and flow, my wife thought the movie was slow paced. I didn't really notice that, but I found the end to be rather like a Neal Stephenson novel, abrupt. The viewer spends the entire movie focused on the LLewelyn Moss character and then he's just … dead. You only see his body for a split second, you're not quite sure it's him, who killed him or what happened. Maybe that was the point, to emphasize that he never really had a chance, and it was never about him.
I doubt I'll ever watch it again, but I'm still thinking about it.