As you can see below, I am part of the wave of empty chair fever that is sweeping America today.    And I am really scratching my head over why this suddenly has Americans talking.  For those who have been away or not paying attention, Clint Eastwood gave an 11-minute presentation at the RNC on the last night of the convention.  You can find it in another post here, if you missed it.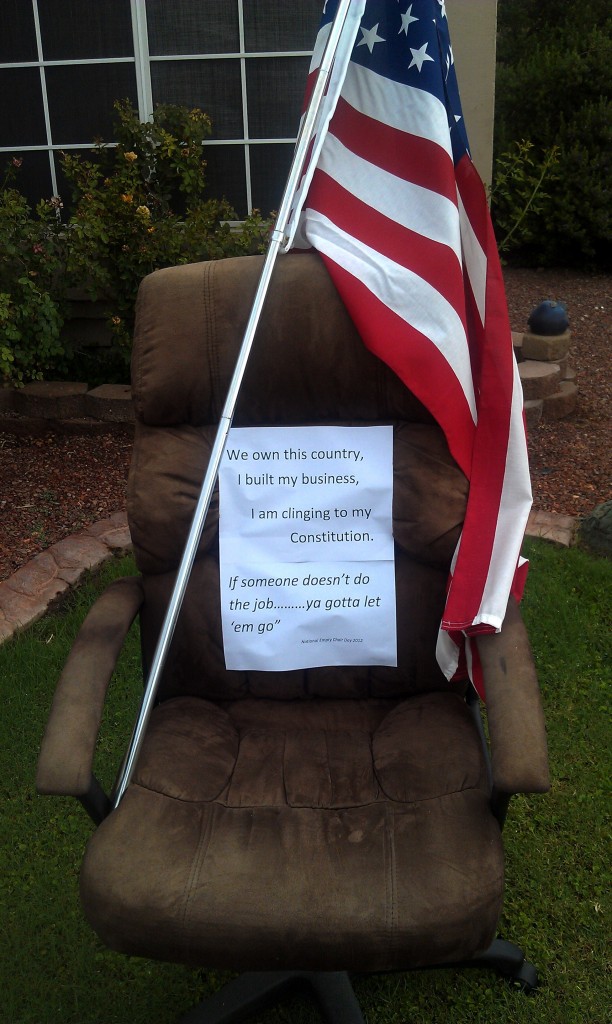 What has ensued since then, is so quintessentially American, that it is worthy of notice.   After Clint Eastwood gave his performance, the media reacted just like the Wicked Witch in the Wizard of Oz.   They melted into screams of bitter, ugly resentment.   I thought their reaction was way over the top, but I forgot that the Left has no sense of humor.   They called Eastwood senile, racist, inappropriate, out of his depth, and those were just the nice comments!
It might all have passed into obscurity.   We were heading into Labor Day weekend and it was likely to be a footnote and nothing more.    It's hard to compete with a 3 day weekend.   Maybe just let it go and clear the decks before the DNC convention this week?
But no.
Never underestimate the humorlessness and the thin skin of President Narcissus who felt compelled to respond.  He posted a photo of his Presidential chair with him in it and the statement that "this chair is occupied."  Thus, he revealed both his surprising lack of political judgment and his immaturity.
That did it.  What might have evaporated became a rallying point.   We now have National Empty Chair Day.  And look at the creativity of the participants.  (See photos below)  The President in that act of shallow defensiveness did as much to make Eastwood's point as the man himself.
You can usually count on the Left to show a lack of grace or humor.   Fortunately, our Founders were not similarly handicapped.  Ben Franklin said famously, that we "shall hang together or we will surely hang separately," when referring to the risks his fellow Founders were facing in the hard times following the Declaration of Independence.
Another Franklin quote that seems apropos given the subject is this one:  "He who falls in love with himself shall have no rivals."
And no shortage of empty chairs it would seem.