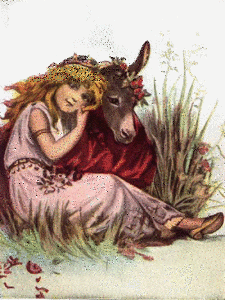 This recording is a bit different from most other LibriVox works, in that it was done as a production.
One has to wonder how they managed to coordinate all of the various narrators?!  There were a couple of places in the reading where multiple readers spoke in unison. Perhaps this was done with multiple tracks, but it sure sounded as though they were all in the same location.
The play itself is delightful and light-hearted as all who are familiar with it already know. However, this audio performance was a very enjoyable surprise. The portrayal of the character of Bottom the Weaver was terrific.
Somehow the actors in the play within the play were able to successfully portray an amateur and overdone performance in keeping with their roles as workmen trying their hand at acting  – and do so without benefit of a stage or visual cues.   Bravo!
A Midsummer Night's Dream is one of Shakespeare's best, and this performance was enormously enjoyable and easy to listen to.