Not only are big communications firms like AT&T cheerfully being complicit in assisting the government in whatever it wants – privacy concerns be damned – but they are explicitly amortizing the charges for doing so across all their customers.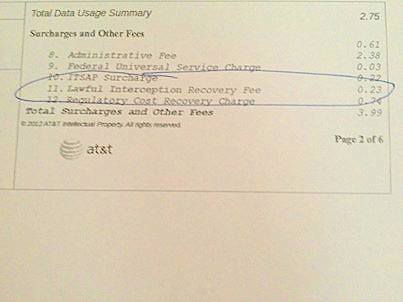 This photo was found on Snopes.
One has to love the tone of this comment:
You are being charged for it whether is itemized on the bill or not. Any company that wishes to stay in business needs to make a profit. So all cost encored by the government has to be passed on to the consumer.

This is not the cost of government wire tapping your phone, but rather the cost off all legal wire taping the company had to do, spread to all its customers.
As though this were the most reasonable thing in the world….