Congressman Hank Johnson, Democrat from  Georgia, recently explained the logic behind his party's  immigration policies.  Providing  amnesty to illegals and  keeping the borders as porous as possible are actually motivated by national security concerns. These measure are needed to keep the country from capsizing! No doubt Johnson was drawing on his special knowledge as a member of the Armed Services Committee.
A quick look at the population map indicates just how precarious a situation we are in!  The country is in imminent danger of "tipping over" due to the population density of the East Coast and the paucity of souls west of the Mississippi!  We are hanging by a thread, it's only California that is providing a tenuous balance.  Only by massively increasing and encouraging immigration into the west can we avoid this disaster.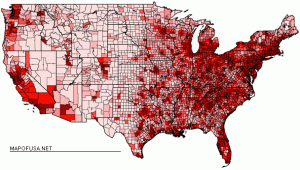 One can only wonder,  confronted with such scientific expertise and  erudition, what would the founders think?