Feb 27, 2008
In between taking kids to music lessons, selling girl scout cookies with middle kiddo, and trying to pitch a softball for the girls (I'm not so great at that), I did still manage to avoid all yard work this weekend and put in a decent number of hours in the garage. (I simply MUST pull some weeds this weekend.)
Ok, so I made a little progress on the headboard. Specifically, I bit the bullet and, after much deliberation, selected the boards I'd use for the 40″ X 30″ panel that will make up the center section. Initially, I had selected a gorgeous board for the middle of the panel. I even cut it out. However, I couldn't make it look good in conjunction with the other boards. Here's the one that didn't "make the cut".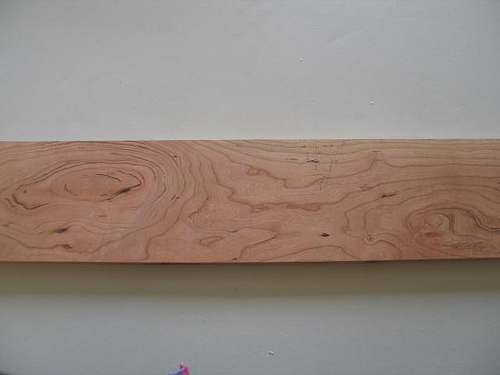 Here is the set I ended up with: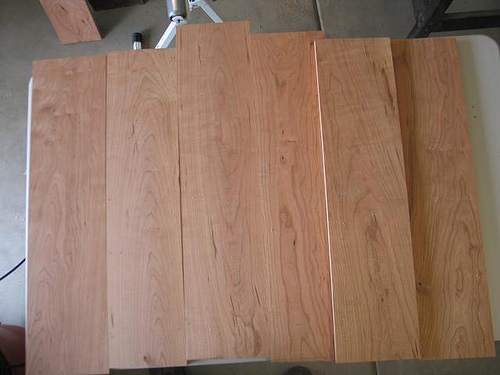 I think it matches pretty decently. The next step will be to do some judicious trimming and then plane the ends flat for edge joining.With that in mind, I have been giving thought to how I am going to glue up this panel. It is going to be 40″ wide and represents a substantial amount of expensive cherry. I don't want to screw it up. It needs to be flat and perfect.
Perfection is not necessarily my hallmark. With its attainment in mind I decided to do a side project and fabricate some sandwich clamps (my terminology). Basically, these are two sets of hardwood boards to clamp across the faces of the panel as it's being glued up. These hardwood sandwich clamps will have to have perfectly flat faces and be thick enough not to bend.
I had some 5/4 red oak on hand that I thought would do nicely. I took one 8′ X 8″ board and ran it through the thickness planer, bringing it down to about an inch thick. Then gave it a straight edge, cross cut it at 4′, and ripped the two halves into 4 pieces each. After that, I cut some slots in each face with the biscuit joiner, and glued them up, forming a rough 2″ X 2″ blank.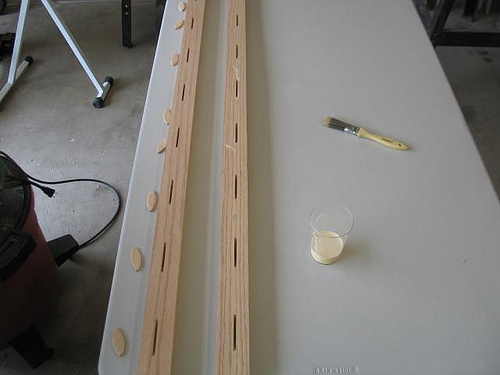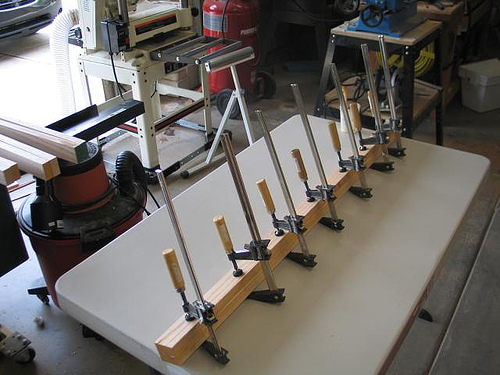 There was an added bonus here, after the glue set, I'd get to practice with the hand plane. Currently, the longest plane I have is a number 5 Stanley Jack Plane. As it turns out, it's long enough. Aside: My friend Scott says I'm "Yak Shaving". (I think you can probably find a definition in the jargon file.)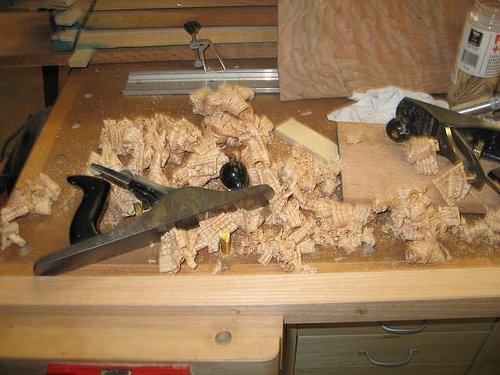 I was very pleased to get these perfectly flat! It means I should be able to get similar results with the panel pieces.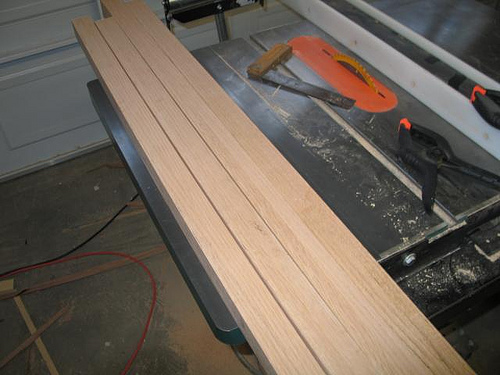 Next steps will be drill some holes, counter-sink some holes for T-nuts. I also will want to look into filling these oak boards, they are very open grained. Then I'll finish them and wax 'em up good so they don't stick when I glue up the panel. More on this as things progress. It's dinner time.