Like everyone else, we watched the TV news in horror and sadness as the story of the shooting this weekend in AZ unfolded.  Frankly, we had hoped not to write about it at all.  It just seemed inappropriate and ghoulish to try and make political hay of any sort out of such a horrible event.  Jared Loughner is a mentally disturbed individual.  Period.
We could grit our teeth and ignore the innuendo of the main stream media.  What else could we expect but for them to espouse the talking points of the left.  Of course they would do their level best to associate Mr. Loughner with the Tea Party.  Their attempt to smear Sarah Palin is so ludicrous as to be unworthy of comment.  In the words of George Washington:
To persevere in one's duty and be silent is the best answer to calumny.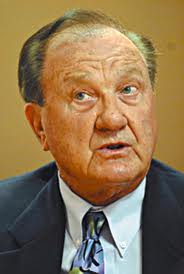 However, as proud Arizonans, we could not let the statements of Pima County Sheriff Clarence Dupnik go unanswered.  Upon hearing his remarks we thought, "Who do you think you are? You are supposed to be fulfilling your role as Sheriff, not making baseless and asinine political statements based on your own personal views."  This man was speaking to the press in his capacity as the top law enforcement official of the county investigating a heinous crime within his jurisdiction.  His job was to deliver just the facts about the case; instead we were treated to this:
"When you look at unbalanced people, how they respond to the vitriol that comes out of certain mouths about tearing down the government. The anger, the hatred, the bigotry that goes on in this country is getting to be outrageous. And unfortunately, Arizona I think has become sort of the capital. We have become the mecca for prejudice and bigotry."
We don't live in Pima County, but the next time this buffoon is up for re-election, we are going to donate money to his opponent.  Better yet, should someone mount a recall campaign, we'll contribute to that.
A former classmate of Tucson shooter Jared Loughner calls him "a left-wing pot head."  But, before knowing any of the facts, Sheriff Dupnik asserted that talk radio is to blame for this crime.  Dupnik (does anyone else think he is aptly named?) is doing what a number of his ideological brethren are doing, making political capital out of a tragedy.  He and they should be ashamed of themselves.   He is using this massacre to get his 15 minutes of fame by implicitly suggesting that some kind of control on the right to free speech may be necessary.  History is rife with the consequences of limiting those rights. If, as a people we have learned anything from the past, it is that this is not a road we want to travel again.