So, last night on my way home, I decided to stop by Chick-Fil-A, diet notwithstanding.  I got to the restaurant at about 7:15 only to find out they were closed.  Inside, the employees were cleaning up and sweeping the floor.  I pantomimed confusion, and a young man with a broom did his own pantomime of eating, gesturing that they were out of food!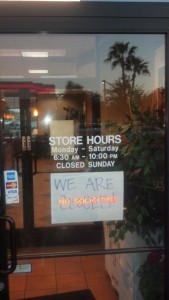 Meanwhile, a man of about my age, perhaps a few years older, walked up and asked incredulously, "They're closed?"
"Yeah," I said with a stupid grin on my face, "they ran out of food."
"Awesome!" he said, breaking into a smile, giving the employee inside a thumbs up. "I just wanted to show my support.  I guess we can call that mission accomplished."
Several other people drove up and they all had the same reaction when told about the store being closed because they ran out food.   Fist pumps and smiles.
I felt like just hanging around  – happy conservatives everywhere.
It occurred to me as I was driving away, that unlike union thugs, or OWS lowlifes, our side doesn't have to be paid to show up.