This is the story of my lathe acquisition a few years ago.
Other options for the title of this post were: "I'll Learn to Turn", "Lathes and Gentleman, I Have a New Toy", "Yearnings and Turnings", and "Burning to Get Turning".  I was tempted (and succumbed) once again by that evil temptress, the tool section on Craig's List.    I bought a Jet 1236 lathe.
The lathe had been transported from Idaho and then left to sit with some other equipment (the rest didn't fare so well, I don't think they were covered.)  (But, I can only adopt so many tools.)  The lathe was covered with a fair amount of surface rust. over all the exposed (non-painted) metal surfaces and bolts.  But it looked mostly cosmetic and the motor ran fine.
What's more, it appeared to be complete, with no missing parts and a brand new set of starter tools to boot.  And get this – $300!  What a deal!  This lathe is almost $800 new, and the turning set is at least $100.   I mean we're talking a third of what it would cost new.  Look at all the money I saved!  (Uh, except for that "quick" trip to WoodCraft on the way home with the lathe.)
So, I got this essential piece of woodworking equipment home and got to work.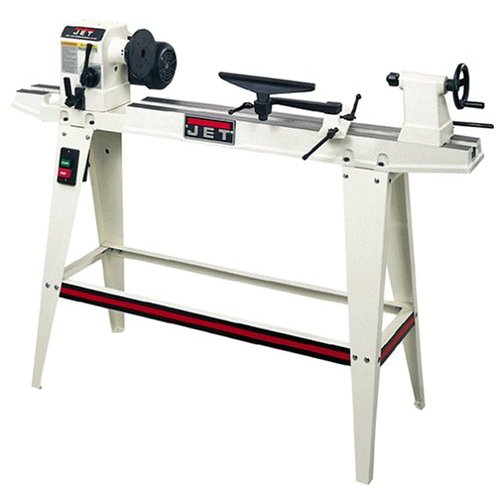 First I read through the manual and discovered that it was indeed all complete, even down to the allen wrenches and indexing pins.
Then I wiped off some of the dust and discovered that there were some nuts missing on the stand assembly.  (No big deal, I happened to have the exact size  I needed along with the requisite lock washers.)  I went ahead and removed each bolt and nut individually, and then got out a wire brush and some carburetor cleaner and got busy.  After I removed all the rust, I put some spray lubricant on them and reinstalled them in the stand.   (Yeah, I guess I'm a little persnickety about stuff.)
Then I went through the morse taper arbor on the headstock and removed all the surface rust using the trusty brass brush and the carb cleaner spray.  I cleaned up some more bolts here and there, and then proceeded to examine the bed extension and the surface of the bed itself.  The bed on these lathes is cast iron, painted on the sides with the ubiquitous Jet eggshell white, but exposed as polished cast iron on the top.  The bed extension is the same.
Predictably, these had quite a lot of rust.  (Note the operative word – "had.")
On one of my previous Craig's List adventures this year, I ended up with a real inexpensive angle grinder, in fact I think the guy I was buying the table saw from just threw it in for free.  Well, after starting with a block of wood and some fine grit sandpaper, I remembered this fortuitous acquisition and realized that there was a disk of some scotch-brite material mounted on the grinder.  Hmmm …
Wow!  talk about the right tool for the right job.  It removed the rust in no time and didn't mar or grind into the top of the lathe bed at all!  I had to get some sleep, but went in well pleased with the progress.
Of course, Â in preparation for this turning, I had to stop at WoodCraft and pick up some very inexpensive pen kits.
Hmmm, it takes a few more things than maybe I realized, before embarking on this endeavor…
No matter, I pressed on. Of course I needed a roughing gouge (there wasn't one in the set mentioned earlier.)
And then there was the turners sandpaper dispenser with rolls of sandpaper tape of various grits.
Oh, and the pen turning mandrel kit, but that was really cheap at less than $15.
And the superglue for gluing the tubes in place.
I guess I may not have considered the specialty drill bit sizes set, it's much cheaper to just buy the set after all, it saves money in the long run.
I almost forgot about the buffing wheel for my bench grinder so I can really polish and hone those tools.  (It's important to take good care of ones tools, the longer they last the more inexpensive they are, really.)
To get good use out of the buffing wheel, you really have to load it up with polishing compound.
If you're going to make pens, you need to have a barrel trimmer, and a drill center vice for your drill press (Fortunately, I have a drill press, so I don't need to get one of those.)
And finally, I needed some pen blanks – they were very inexpensive and came in some very cool exotic hardwoods.
Somehow, the price for all of these accoutrements exceeded $250 I had budgeted.  I mean who knew that so much stuff was needed to get started? As you can see, I really didn't have ANY choice.  I mean, I had the lathe already.  It wouldn't make sense not to use it,  right?