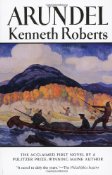 Arundel is a work of historical fiction by Kenneth Roberts.  Despite it being nearly 500 pages in length, it doesn't take all that long to read.  Roberts manages to pack in a lot of excitement into his story line.  In retrospect this is a bit surprising since a big chunk of the book involves trudging through a swampy wilderness.
Roberts' story provides an interesting contrast to the villainous depiction of Benedict Arnold commonly portrayed.  Arundel takes place at the very beginning of the American Revolution and revolves around Arnold's campaign to take Quebec.  The Arnold Roberts describes is an energetic and inspiring leader.  He is also extremely ambitious.  
Because Arnold did not succeed in capturing Quebec, the scope of his achievement is largely overlooked. Â  Arnold managed to take his army through some of the most brutal terrain imaginable (350 miles) and his failure to take Quebec was not due to any lack of energy on his part, but rather due to a variety of causes outside of his control, including bad weather conditions, ammunition shortages, near starvation, and difficulties in coordinating with Montgomery. Â Â 
In addition to Arnold numerous other historical characters make their appearance in the story.  Aaron Burr doesn't fare nearly as well as Arnold does, and is shown as selfish, conniving, and womanizing, as well as somewhat effete.  This reader had not realized that he was part of this expedition prior to reading this book.  The description of Daniel Morgan and his riflemen is largely congruent with the descriptions provided by John Brick in his novel, The Rifleman, reviewed here. 
As in his book, Oliver Wiswell, Roberts is scrupulous in his attention to accuracy, and provides a believable and balanced (if not always flattering) description of the actors in the American Revolution.  In both of these books, Roberts shows how some patriots manipulated public opinion and pandered to the baser elements of human nature, with rhetoric that pitted the have-nots against the haves, and made promises that could never be kept.
Arundel is an entertaining and highly informative story, and it is clear that Roberts did a lot of research.  This reader learned a lot from reading it, and independently verified some of what Roberts had to say, following the trail whose origins the author thankfully included in a brief bibliography at the end of the book.*
* Like good books often do, Arundel piqued my curiosity.  As it turns out, some of the resources listed in at the end of book are now available via archive.org, In searching for the books that Roberts mentions, others came up as well.  Here are some interesting things now on this reviewer's ever expanding reading list.