The Declaration of Independence is on display in the Rotunda of the National Archives. To protect it from erosion it is sealed in a titanium casement filled with inert argon gas. Similar measures have been taken to protect the Bill of Rights and the Constitution.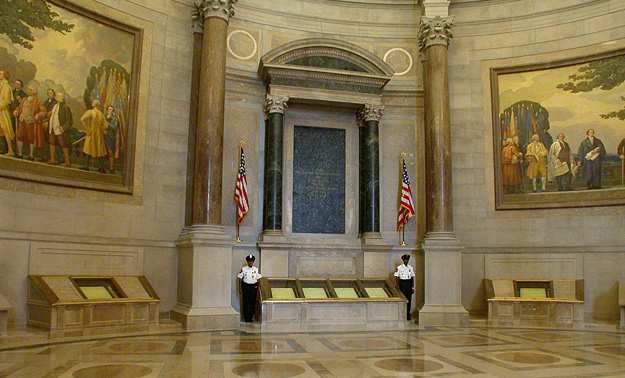 Would that it was as easy to preserve the ideals they embody.
Americans are in danger of forgetting just what it was that the men we call the Founders created. As Matthew Spalding writes in We Still Hold These Truths, the American Founders  "constructed a new constitutional order that was based on the traditional concept of a fixed human nature." They did not create a system to reform human nature, or to force men to conform to other men's definitions of virtue.
They crafted an experiment to determine if men were capable of governing themselves. Alexander Hamilton framed the question in the opening lines of Federalist 1:
It has been frequently remarked that it seems to have been reserved to the people of this country, by their conduct and example, to decide the important question, whether societies of men are really capable or not of establishing good government from reflection and choice, or whether they are forever destined to depend for their political constitutions on accident and force.
Although the Federalist papers were written to persuade the states to approve the new Constitution, the authors were mindful that maintaining freedom would require more than words on parchment.  Each generation would be required "to decide the important question" anew.
Hamilton seems to be speaking across the centuries to us.
If there be any truth in the remark, the crisis at which we are arrived may with propriety be regarded as the era in which that decision is to be made; and a wrong election of the part we shall act may, in this view, deserve to be considered as the general misfortune of mankind.
Today we celebrate our independence from Great Britain. But the Declaration of Independence transcends the time and circumstances of its writing because it sets forth the moral truths by which we live:
that are men are created equal, that they are endowed by their Creator with certain unalienable Rights, that among these are Life, Liberty, and the Pursuit of Happiness —Â  That to secure these rights Governments are instituted among Men, deriving their just Powers from the Consent of the Governed.
Happy Independence Day.